President Trump's Economic Plan estimates that the Trump Administration should be able to achieve a minimum of 3.5% annual growth that will produce 25 million new jobs this decade.  Since 81% percent of all Americans reside in urban communities, the key to achieving 25 million new jobs resides predominantly with the Department of Housing and Urban Development.  Ben Carson is therefore the key to success, especially in blighted communities.  Restoration and redevelopment of blighted inner-cities is of paramount importance to America as well as fulfillment of President Trump's Urban Renewal Agenda, in which President Trump promises "safe communities, great education, and high-paying jobs."  As the Director of Neurosurgery at John Hopkins, Dr. Carson mastered and pioneered the restoration of people.  As the HUD Secretary, his leadership and neurological skills are greatly needed to restore distressed communities.
Jobenomics produces two quarterly reports containing highly documented analyses on U.S. employment and unemployment.  These reports describe the strategic relationship between (1) jobs and economics (Jobenomics), (2) the nexus between jobs and GDP, (3) the vital importance of the private sector labor force, (4) the balance between the working and non-working populations, (5) labor force gains versus labor force losses, (6) the criticality of small business on job creation and (7) the paramount importance of urban restoration and development.
The seventh area, the paramount importance of urban restoration and development, is where the rubber meets the road for President Trump's "Make America Great Again" vision.  Over the last decade, trillions of dollars have been infused into the economy.  The rich have gotten much richer, middle-class eroded and the inner-cities in crisis.  As President Trump has repeatedly said on the campaign trail, urban renewal is one of his highest priorities.  He has proposed a myriad of incentive programs for urban restoration and development including $1 trillion dollars in infrastructure investment with emphasis on inner-cities, tax holidays for inner-city investment, federal disaster designation for blighted communities, demolition of abandoned properties, increased law enforcement and equal justice, better schools and school choice, small-business creation and forgivable micro-loans.  The Administration's point-person for urban renewal is Ben Carson, the new Secretary for Housing and Urban Development.  Jobenomics could not be more pleased with this choice.
For years, Jobenomics has worked with dozens of blighted communities and their community leaders on urban renewal.  New York City, Harlem, Baltimore, Erie, Las Vegas, Cincinnati, Raleigh, Orlando and Phoenix community leaders now are trying to implement actionable Jobenomics programs targeting the most blighted areas of their communities.  Unlike the Trump Plan, Jobenomics focuses on small business development as opposed to job creation.  Jobs do not create jobs, businesses do.  Small businesses employ 78% of all Americans and created 74% of all new jobs this decade.
The Jobenomics Baltimore City initiative serves as a good example of what the Jobenomics National Grassroots Movement is trying to achieve with local communities.  In April 2016, Jobenomics was contacted by West Baltimore community leaders in regard to developing a Jobenomics Baltimore small business and job creation plan.
Based on statistical research, neighborhood tours and meetings with West Baltimore community leaders, the Jobenomics Baltimore City team agreed to an overall goal of restoring Baltimore City's labor force, which would go a long way to increasing incomes, alleviating poverty and reducing crime.
The Jobenomics Baltimore City team decided on a goal of 100,000 net new inner-city jobs by 2026, which would reverse the downward trend of 89,000 job losses since 1990.  The team also agreed on the principle that jobs do not create jobs, businesses do, especially small businesses that can support the needs of the local community.  Consequently, it was decided that the Jobenomics Baltimore City's small business creation effort should focus primarily on minority, women and new workforce entrants—the demographics with the highest need and potential in West Baltimore and the City at large.
In addition to jobs, Jobenomics Community-Based Business Generators should be able to create as many as 2,000 new small businesses and significantly more self-employed businesses.  The Business Generators will also provide post-startup support that will increase the lifespans of new businesses and support their growth into medium and large-sized businesses.
Baltimore City does not lack human resources to fulfill the Jobenomics Baltimore City plan.  Over the next decade, a large percentage of the City's 96,000 new workforce entrants will enter the workforce ready for meaningful careers.  A high percentage of Baltimore City's 62,000 unemployed who are looking for work may be able to finally land a job, the right job.  A reasonable percentage of Baltimore City's 182,000 able-bodied adults who are no longer looking for work may decide to change their minds.
The Jobenomics Baltimore City plan has four major objectives.  Out of the 100,000 net new jobs, 35% will be related to Manufacturing with emphasis on developing Under Amour's indirect workforce; 26% to Healthcare and Social Assistance with emphasis on healthcare, eldercare and childcare; 24% to Demolition and Construction with emphasis on restoring 30,000 city-owned derelict homes and properties; and 16% to the emerging Digital Economy with emphasis on electronic/mobile commerce and on-demand economy initiatives (e.g., Uber, Airbnb, etc.).
Jobenomics estimates that the economic impact of the Jobenomics Baltimore City plan could exceed $6 billion per year.  100,000 new jobs at an average salary of $50,000 are worth $5 billion a year alone.  Construction, tourism, urban mining, renewable energy and light industrial projects would create additional revenue.  Numerous new small businesses would provide long-term revenue to the city via sustainable jobs and viable careers.
Whether the Jobenomics Baltimore City plan will be realized is too early to predict.  Fulfillment will be only achieved when consensus is achieved by community leaders.  Today, only one thing is for sure.  In the short nine months since inception, the Jobenomics Baltimore City plan has changed the economic development dialog from a project-by-project approach to a more strategic small business and labor force development approach focused on developing skills for those at the bottom of Baltimore's socioeconomic pyramid.
The Jobenomics Erie Program (www.JobenomicsErie.com) serves as a good example on a smaller scale.  Jobenomics Erie's focus is on mass producing micro-businesses and jobs with emphasis on inner-city Erie minorities, veterans, women, new workforce entrants and other hopefuls who want a job, career and those who are entrepreneurial enough to start their own small or self-employed business.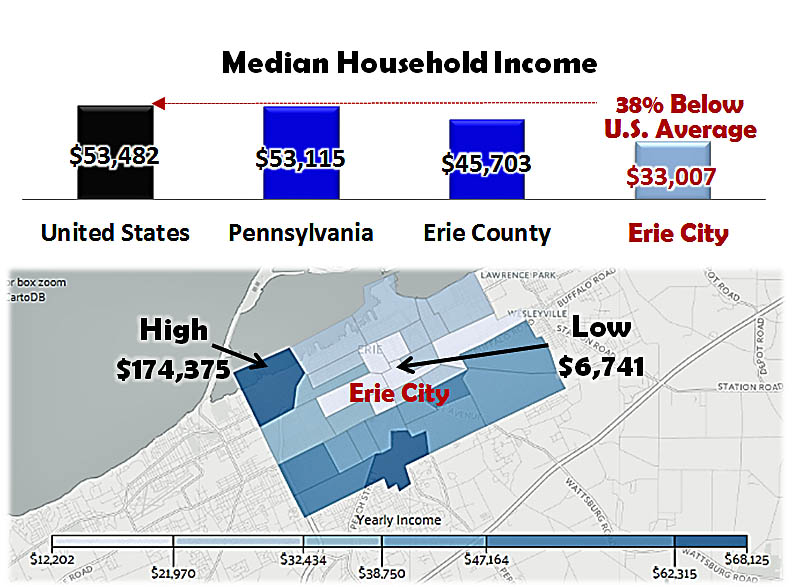 Over the next 5-years, Jobenomics Erie program goal is to create hundreds of micro-businesses that will produce 3,500 new direct jobs (not including indirect and induced jobs) with livable wages and viable long-term career opportunities over the next five years.  Jobenomics Erie can offer 9,000 online skills-based training and certification programs to "create careers within a year".   If each direct new job generates two or three times as many indirect and induced local jobs, the total employment impact would equate to a total between 10,500 to 14,000 new jobs for Erie. 10,500 new jobs, at an average annual salary of $50,000, would equate to an economic impact of $525 million per year for Erie and Erie's metropolitan area.  As shown above, $50,000 would be a huge boost to Erie's inner-city average household income of $6,741.
Jobenomics Erie will be built on a two existing and well-respected Erie programs that serve inner-city Erie's most socially and financially challenged communities.  The Total Change Re-Entry Program, developed by Climate Changers, a 501c3, addresses the challenges ex-offenders, gang members and at-risk youth by providing comprehensive skills and reentry programs.  Veterans Miracle Center Erie, a 501c3, serves veterans by providing counseling, services, new clothing, products, housewares to those in need free of charge.  In partnership with the Jobenomics National Grassroots Movement, The Hope Collection, ACTS Freedom Farms and eCyclingUSA, the Jobenomics Erie Program will introduce four new initiatives to accelerate these programs as well as expanding their outreach to other Erie demographics with the greatest need and highest potential.
The four new Jobenomics initiatives include: (1) a Jobenomics Community-Based Business Generator to identify, train, certify high-potential candidates for existing employment opportunities and mass-producing new micro-business in direct-care, digital economy, renewable energy and technical trades, (2) a Jobenomics/ACTS Freedom Farms Urban Agriculture initiative that will employ advanced indoor hydroponics and vertical farming technology to produce 150 one-acre urban micro-farms and a large 100,000 square foot indoor controlled agriculture complex using state-of-the-art hydroponic and vertical agriculture technology, (3) a Jobenomics Urban Mining initiative based on proven eCyclingUSA technology for reclaiming high-value material from electronic waste and using the profits to fund ongoing and additional Jobenomics Erie programs, and (4) a Jobenomics Workforce Re-Entry Program to create micro-businesses and jobs for formerly incarcerated, gang members and at-risk youth in order to reduce crime, deter social unrest and provide meaningful career opportunities to those who are often shunned, excluded or isolated from mainstream society.
At the high-end of the urban renewal scale, Jobenomics New York City plan's objective is to quadruple the historical rate of NYC new job creation (232,000 per decade) with a stretch goal of one million net new livable wage jobs by 2026 across all five boroughs of NYC.   Jobenomics New York City is being led by Rev. Michel J. Faulkner a leading candidate for Mayor of New York City in the 2017 election cycle.  His Campaign website is located at Faulkner for New York, which features a detailed 62-page Jobenomics New York City Business and Job Creation Plan that you can download.   The J-NYC plan concentrates on (1) implementing community-based business generators throughout the NYC metropolitan area, (2) developing workforce skillsets to fill vacant NYC jobs, (3) exploiting employment opportunities with the largest and fastest growing NYC industries, (4) implementing new business and job creation initiatives tailored to the needs of New Yorkers and (5) positioning the NYC labor force for substantial opportunities generated by energy and network technology revolutions.
Stay tuned for the final installment in the President Trump's New Economy Challenge series entitled, "Trump Administration's Minority-Majority Nation Challenge" scheduled for release on 4 April 2017.
Click to read the rest of the articles in a 20-part series on President Trump's New Economy Challenge. Note: many series articles require a small ($5) subscription fee. Non-series articles and Jobenomics project reports are free at Jobenomics.com.  All subscription fees are directly (100%) applied to the Jobenomics Urban Renewal Programs. Donations to revitalizing blighted inner-cities are most welcome.
Jobenomics deals with economics of business and job creation.  The non-partisan Jobenomics National Grassroots Movement's goal is to facilitate an environment that will create 20 million net new middle-class U.S. jobs within a decade.  The Movement has a following of an estimated 20 million people.  The Jobenomics website contains numerous books and material on how to mass-produce small business and jobs.  Monthly website traffic exceeds one-half million hits, which is indicative of the high level of public interest regarding economic, business, labor force and workfare solutions.  For more information, see Jobenomics Overview and the Author's Biography.